At Da Vinci Cabinetry, we are a full service design and build firm. This means that we specialize in anything and everything that is kitchen and bath related including cabinetry, countertops, walls, floors, plumbing and electrical. Here are just a few of the services we offer to revamp your kitchen space:
Full Kitchen Remodels
For a full kitchen remodel we would start with a look at the current design of your kitchen and suggest improvements. We might remove soffits, rearrange the layout for a more efficient workspace, install new flooring, replace all cabinets and install new plumbing fixtures. Included in the full kitchen remodel would also be new lighting, new backsplash and painting of walls.
Kitchen Refacing
To reface your kitchen, Da Vinci Cabinetry would help you select new doors to help you match your kitchen vision. We would obtain the new doors as well as any end panels that are needed. Once the new doors are installed it might be necessary to trim the boxes to match the new doors. New hardware making the doors "soft close" can be installed at this time.
Custom Islands
Adding a free standing island, where space is available, is a great way to modernize your kitchen. The trend today is to mix and match cabinetry to achieve an eclectic look unlike anyone else's. Your only challenge to adding an island, where space permits, will be to have electric available. Da Vinci can solve this challenge with their qualified electricians.
Free Standing Islands
When time is an issue, Da Vinci Cabinetry can supply you with a kitchen island that can be delivered and set in place…no installation required.
Cabinetry Additions
To add new cabinets to your kitchen it will be necessary to either duplicate the finish of your existing cabinets or select a cordinating finish. If you know the brand of cabinets that are currently in your kitchen, we might be able to obtain new matching cabinets from the manufacturer. Or you could select a cabinet with a completely new finish that complements the existing cabinetry.
Check Out Some of Our Recent Projects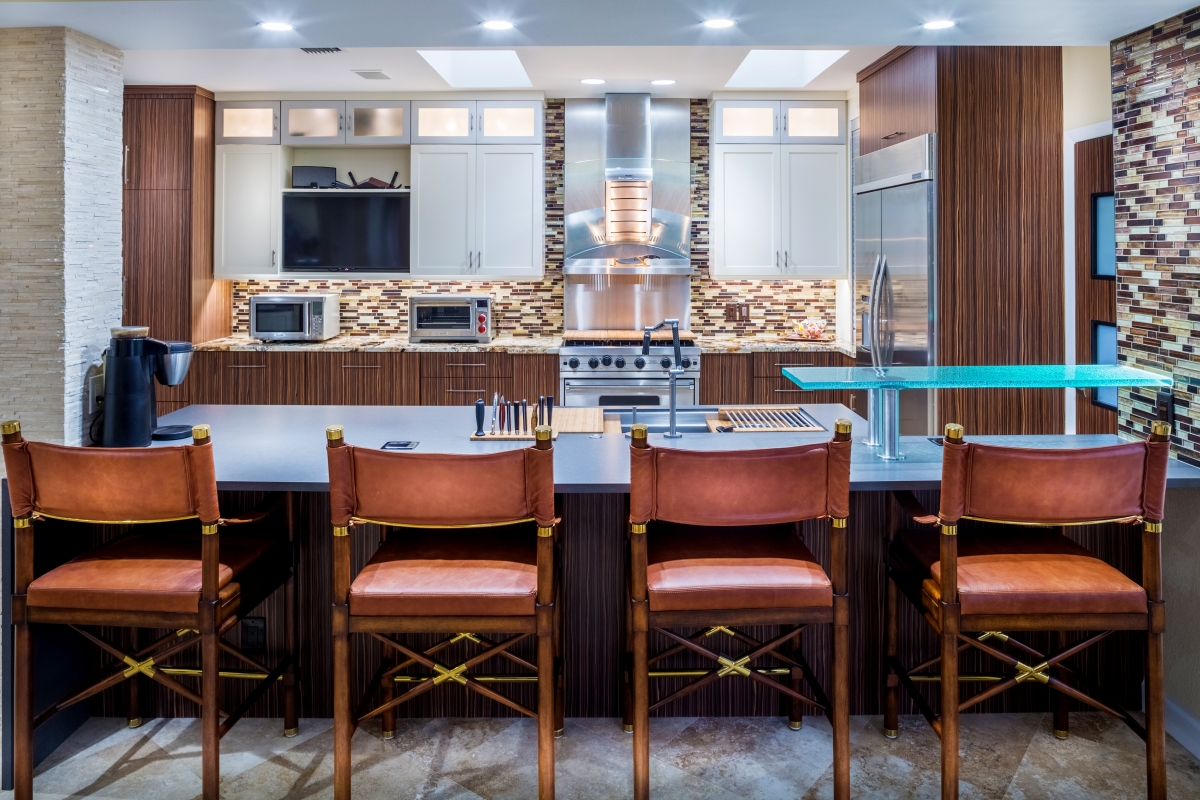 Indications of Whether or Not You Are in Need of a Kitchen Remodel:
DETERIORATION
If your cabinets are showing signs of age, perhaps flaking or water damage.
FUNCTIONALITY
If your basic work triangle is inefficient. (The sum of the work triangle's three sides should not exceed 26 feet).
LIMITED SPACE
If your kitchen is too small.
OUTDATED APPLIANCES
If you need to replace all your appliances, it might be time for a kitchen remodel.
OUTDATED STYLE
Perhaps your vintage kitchen just looks old! It's time to modernize and getting a new kitchen will put a bright new outlook on your daily living!